STARZ Youth Performance Troupe
Whether you are interested in trying out theatre for the first time, or you are experienced on stage, STARZ is the group for you! Our STARZ Youth Performance Troupe is for students in fifth through twelfth grades. Students enroll for the semester's production and auditions are held at the first meeting. Rehearsals take place Fridays from 4:30 to 5:45pm and Sundays from 2-5pm.
The Spring 2015 production is Honk!, Jr.
Book by Anthony Drewe
Music by George Stiles
Lyrics by Anthony Drewe
Based on Hans Christian Andersen's The Ugly Duckling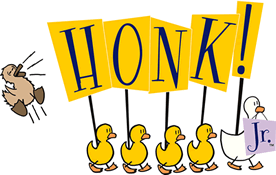 Honk! is the story of Ugly, an awkward duck whose gawky looks instantly incite prejudice from his family and neighbors. Separated from the farm and pursued by a hungry cat, Ugly must find his way home. Along his rollicking and harrowing journey, he not only discovers his true beauty and glorious destiny but also finds love and acceptance in all its forms. This is an all-youth performance.
Performances of Honk!, Jr. will be March 21 at 7:00pm and March 22 at 2:00pm & 4:30pm in the Sheldon Vexler Theatre.
Tickets, which are $7 each, are now on sale! Tickets will be sold at the door.
If you have any questions about STARZ, please contact Rachel Rustin at 210-302-6969.
STARZ is open to the community; however, our members receive priority enrollment and member-only prices. Visit our membership page so you can take advantage of these great offers! Not quite old enough for STARZ? Check out NOVA - our Youth Performance Troupe designed for students in second through fourth grades.